Leasing Update
Please check back on 2/1/2019 with any questions on renewing your lease. We are not processing renewals currently.

Your search returned 1 property.
Click here to modify search.
House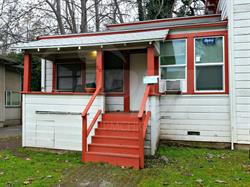 712 W. 4th Street Chico
Learn More
1 Bedroom / 1 Bath : $890/month
Cute 1 bedroom home. Super close to CSUC and downtown. Enjoy the patio and luxury of being close to restaurants and shopping. The first set of approved applicants with the deposit paid will receive the lease.
Available 07-19-2019